Time to catch up on the blog! After hanging out just outside of El Malpais National Monument for a week, I spent last weekend exploring El Malpais itself and also El Morro National Monument before heading up to Los Alamos. The next week brought snow and cold in the mountains, so I didn't get out this weekend, but I did actually enjoy hanging out in the snow and tasting some New Mexico Chili with locals.
The Friday after arriving in New Mexico, I headed to the El Malpais Visitor Center to pick up some information before making up my mind to head to El Morro National Monument for the night.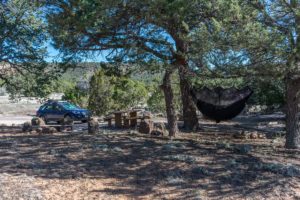 I arrived in El Morro after the trails were closed for the evening, but I was able to snag a wonderful campsite, with a wonderful opportunity to properly hang my hammock on the trees. I took a calm evening with no cell service to just hang out around camp, enjoying the silence and the beauty of the land around me.
Waking up Saturday, I packed up and hit the trail as soon as they opened again for the day. I did the short hike at the base of the bluffs, around the pool, before heading up and exploring the canyons and ruins above. El Morro is truly a wonderful little park, with some great exploration within.
Of course, this hiking only took a brief time, so I headed out to the El Calderon area of El Malpais immediately, and did the hiking through the cinder crater and surrounding lava flows. Of course, I've seen plenty of lava flows and cinder cones at this point, but it's always something I enjoy. Each one has its own unique features that further pieces together all of the pieces of the volcanic story of this planet.
I even decided to stop at the Sand Stone Bluffs on the other side of El Malpais before turning back in at Joe Skeen for the night.
I had thought of doing more of the park on Sunday, but I started the morning quite slow and finally decided to just head into Albuquerque for some grocery shopping before heading up to Los Alamos to find a wonderful campsite in Santa Fe National Forest, just outside of town. Unfortunately, snow hit over the following week, so I didn't get out to explore the area much, opting to stay in camp and keep warm. Thankfully, I've got time to stay around here and explore nonetheless. There's plenty to see around here, and I already feel like this isn't going to be my only time here, if I can help it!