On January 4th, I began hiking the San Diego Trans County Trail. It took me 12 total days, counting 2 "zeros" to complete a route that totaled about 170 miles of walking. While hiking, I also took the opportunity to  reflect on the last year of my life as my 30th birthday approaches on the 18th; it was a year full of existential exploration throughout a great deal of adventure.
Foreword
It's been a while since I posted to the blog, here. I've been on a few adventures in that time, and just never got around to posting about them. I considered doing a quick  recap, but I'm just going to skip over them to focus on just what I want this post to be about instead.
For most of my trips, I give a pretty detailed account of the journey and tend to keep it pretty focused on the trip being discussed. This post will be different.
The San Diego Trans County Trail has been defined as a general corridor to hike East or West across San Diego County, but a great deal of the route has not been finished. I was lucky enough to find a group of other hikers who have previously put together a route, and they were wonderful enough to have me along on their journey. I'm going to stay somewhat vague about details of the route and where I camped due to some possible trespassing and other legal concerns. I can't recommend anyone else attempt this hike, especially based on this post, as much as it was an absolutely amazing route through one of the most diverse sets of ecosystems in the country.
I've also decided to take this post to write out some of my own reflections of the last year. This is going to be mixed in throughout the talk of the actual hike, in no particularly great separation or obviously meaningful order. It might get a little weird. I had a large existential exploration this year, and I spent a lot of time thinking over and reflecting on that experience as I hiked this trail. If this isn't your cup of tea, feel free to skim through my existential ramblings or just enjoy the pictures (full gallery is at the end!).
Without further ado…
Preparation: The Pack
For this hike, I put together an ultralight "San Diego Winter" pack that came in at a total 8.13lbs baseweight. The setup was loosely based on the setup that I took on my Seven Devils Loop trip. However, I replaced items for more warmth, lower weight, and greater versatility.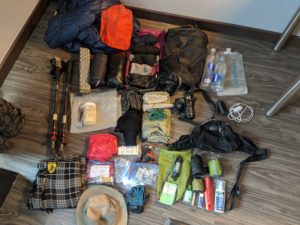 The setup begins with an REI Flash 22 pack. It's just a day pack, but its 22L capacity is pretty nice, while being quite ultralight. To make it work better, I cut some holes and ran velcro straps through the bottom, enabling me to strap on my Enlightened Equipment Revelation 20 quilt that is stored in a 8L drybag. I also tore out the padding on the inside back of the bag and replaced it with a Therm-a-Rest Z-Seat. Unfortunately, it makes using the Z-Seat as a seat anywhere but in camp not really worth it, but it was nice to have in camp at times nonetheless. It also seemed stronger, although shorter and less perfectly dimensioned, than the stock pad.
For an extra 5L, I also wore an REI Trail 5 waistpack. I would wear this as a lumbar pack, which allowed the Flash 22 to rest on it, transferring some extra weight to the hips as I carried my packs along.
This is all less than perfect and hilariously hodge-podged. But it is the most comfortable I've ever been backpacking!
I also went stoveless on this one, so I just carried my food in an OPSak and had a titanium spork and empty almond butter container that worked great for cold soaking mashed potatoes one night (I never did finish eating that). The about 4L water capacity (2 700mL Smart Water bottles and a big Platypus) I started with was basically all for drinking then. I ended up grabbing an extra 1L Smart Water Bottle after a couple of days on the trail to increase capacity as well.
For sleeping, I carried my homemade 8.5'x8.5′ cuben fiber tarp, with some aluminum stakes, guylines, and repair tape. I then had the Z-Seat or a Regular Therm-a-Rest X-Lite that held up most of this trip quite well. I even brought a Sea to Summit Aeros Pillow Premium, which was just amazing. Of course, if I needed to be extra warm, I also had my Mountain Gear Ghost Whisperer jacket, Outdoor Research down beanie, merino wool buff, Brynje Super Thermo baselayers (top and bottom), and even a pair of leather gloves. I even carried a pair of cushion Darn Tough socks just for camp, while carrying an extra pair of Injinji toe sock liners to switch out every day.
I brought my headnet and a bottle of Picaridin but never needed them. My Sawyer Mini water filter also ended up sitting in the pack the entire duration of the hike, never getting used. There was also the emergency poncho which never got used thanks to a successful avoidance of bad weather.
I wore my SportKilt the entire duration of the hike. Sometimes, I would have on a pair of Smartwool bottoms, sometimes not. I wore a Smartwool top baselayer as my shirt the whole time. A brimmed hat from REI and some SPF gloves kept the sun off of me quite well. My Nikon D3400 hung around my shoulder like a sling for the duration of the hike while my phones and wallet stayed in the pockets of the kilt.
I carried my Garmin eTrex 30x for navigation, with my phones in my pocket and a charger in the waistpack. A Black Diamond Ion headlamp served really well, especially during a little bit of night-time bushwhacking.
What am I forgetting? Oh yeah! My little survival kit, and my REI Flash carbon fiber trekking poles, one with a bit of duct tape and one with a bit of sports tape wrapped around it. And the usual consumables/toiletries: a Deuce of Spades trowel, toilet paper, toothbrush, hand sanitizer, lip balm, ibuprofen, and a little notebook and pencil from Ikea.
So, with the pack dialed in, it's time to hike!
Day One
About 14 miles. Less than 1000ft gain.
I met a bunch of strangers the night before. Some stranger actually trusted me with coming to their home and stay the night, having no real idea who I am. No one could vouch for me or anything of that sort. I just showed up. Awkward as hell. I hadn't decided what version of myself I wanted to be yet, and didn't really feel like making that choice so suddenly. But there I was. Hanging out with strangers, spending the night, and getting a ride out to the trailhead in the morning.
My birthday in 2017 was kind of terrible. I turned 29. I had spent some time in San Diego for the holidays, hanging out with friends and family. But by the time my birthday finally came around, I was exhausted. Out on the road, I can just be whatever version of me I want, at any time. It's genuine. But back home, I found myself constantly saying, "I just can't be me here!" It was time to leave. So I spent my birthday driving out to Quartzite, AZ. And I spent the next couple of months just trying to get back to being comfortable in my own skin again, adventuring around all the different wonderful, beautiful places around the Sonoran Desert in Southern Arizona. I met some wonderful folks and had a great time.
In March, I went to my sister's wedding in Joshua Tree. I got to get up as part of the ceremony and "perform" the Apache Wedding Blessing as a poem. It'd been a really long time since I did any kind of poetry performance, and I didn't memorize it at all. But it was nice to explore that part of me that just doesn't get to have much outlet these days. And then I got just smashed and had a blast partying with people I love.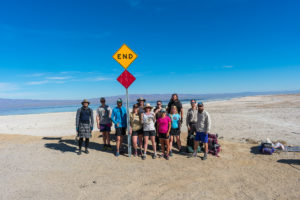 On January 4th, we shuttled out to the Salton Sea. My car stopped and put down some water caches in the desert for us to catch up to later. One, we would specifically camp at the first night. And then we went to the Salton Sea and grouped together to start the hike. The whole day was just following a series of fun washes through the desert, making our way across the county border into San Diego County. It was a fun, relaxing day of walking and chatting with all of these new people.
At camp, we ate and hung out some more before heading off to sleep to see to a long day in the morning.
While starting out the year having quite a fit of existential anxiety, just getting back to myself enough to be comfortable exploring it seemed to take me until I was in Petrified Forest National Park. And then the questions began: What does this even mean, to not feel like I can be myself? What is "myself"? Effectively: Who even am I?
Camp was wonderfully silent in the desert. Everything stood still and I stared into the night sky, glimmering with stars impossible to count. I was happy. Comfortable. The world held me in its arms and I communed with the universe as I drifted to sleep.
Day Two
About 24 miles. About 2400ft gain total.
Waking up at sunrise, a few hikers packed up quick and hit the trail. Others straggled around camp, lazily starting their day. This was a Hike Your Own Hike affair, after all. I packed up my gear before grabbing a beer and hanging out for just a minute and heading out to the trail.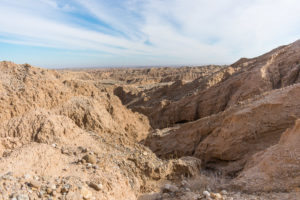 I spent the day walking through washes, intermittently running into different hikers in the group as we meandered our way into the Borrego Badlands. At one point, another hiker and I missed a turn on our route and ended up down some wash that went who-knows-where. I turned up a ravine to check things out and didn't see her again for a while.
Climbing up the ravine, it quickly dead-ended into badlands formations. I had just been speaking to my fellow hiker about the mud caves in the area, and how it's not exactly uncommon for them to cave in without warning, even killing people in the process. But for some dumb reason, I thought it would still be smart to climb up this ridge and take a look around. So I did that. I had just enough time to see where the route I was supposed to be on actually was before the ground beneath my feet suddenly gave way and I went sliding several feet down the side of the hill.
The greatest pure fear I ever remember feeling was in childhood. I don't remember much. Just the fear, really. I do remember more details than I tend to let on about events that happened. Interestingly, as I began my exploration into this anxiety that pushed me out of San Diego, I found myself recalling more details than I really ever let myself explore. But most importantly is the fear, and the way that I dealt with that.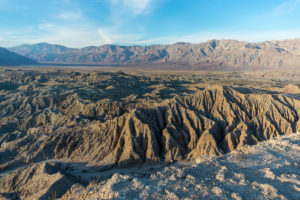 For sure, I thought I was going to die for a moment as I slid down those badlands. But things turned out okay, and I was able to backtrack to the missed turn and continue on up the proper route that I was trying to follow. This route eventually took me to Inspiration Point, a wonderful viewpoint deep in the badlands. Thanks to some strangers along the way, I even had some extra water as I arrived, finding my fellow hiker that I departed ways with a few hours before.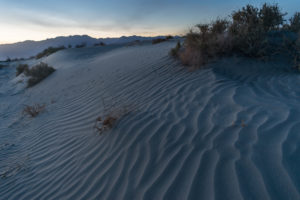 I really should have just stopped there. But I didn't. I climbed down the wonderfully beautiful badland washes, out into the sand dunes as the sun set behind the mountains. And sand dunes suck to walk in! Each step takes just enough extra energy to be noticeable quickly, and sand constantly piles in your shoes, causing gnarly blisters that hurt like hell. In the dark, I found myself cutting across the dunes by headlamp, just trying to get to the road to do an at least more comfortable road walk into Borrego Springs. Unfortunately, my knee started aching along the road walk, proving to give me some concern.
When you're a pre-school child and someone is acting abusively towards you and you don't see a way out, I guess you could do what I did. Somehow, I figured out that I could become someone who could deal with it. Who could predict the abusers next move and avoid it. But most importantly, this person that I could become could take whatever it needed to take when everything else failed. I put on a mask that hid a wall of mental protection. And it worked. It worked really damn well. My parents got me out of that situation after a while, but I developed a little coping mechanism that worked really well. The "real me" had somewhere to hide.
Day Three
About 22 miles. About 5300ft gain total.
Heading out of Borrego Springs, we followed the California Riding and Hiking Trail up to S22 and down Grapevine Canyon. It is a pretty obvious route, including a stop at Pena Spring and the possibility of hitching a ride into Ranchita.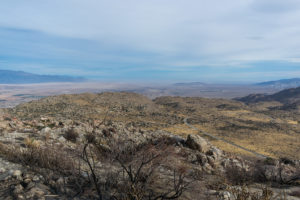 The views on the climb were amazing. The hiking wasn't particularly easy in any way, but I had just decided to take my time and enjoy it. I rested often and didn't take the time to care what anyone else was doing. I stayed somewhere in the middle of the whole group. My knee continued hurting the entire time, so being able to just enjoy it regardless made for a nice day.
I even got an amazing hitch into Ranchita! I had stopped at the very small market when section hiking the PCT through the area, and it was really cool to stop in there again. Believe it or not, the first car on the road once I joined it was the one to stop and take me all the way. On the way back, it took a few before an old couple stopped and I sat awkwardly hunched over in their backseat full of stuff.
Night hiking down Grapevine Canyon, I stopped by Stewart Spring for about an hour. I enjoyed listening to the frogs and all the little rodents scurrying around the bushes. A steady flow came from the spring, providing subtle noises of water that pierced the total darkness of the night. It was a lovely stop before making it a bit further down the trail to find camp.
Day Four
About 11.5 miles. Around 1400ft gain total.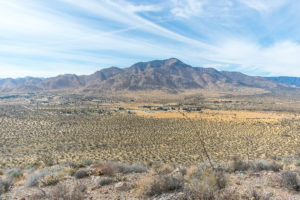 Waking up camped alone, I enjoyed the scenery of my campsite that I couldn't make out at night before packing up and hitting the trail again. I made way up Plum Canyon and down into Shelter Valley. The hike was through a ton of beautiful desert area, with some great views along the way.
I decided to take a side-trip to Stagecoach Trails RV Park to stop in their little store. Along the way, with my knee hurting and every day hiker warning me about the weather approaching, I decided to book one of their small cabins. For 3 nights. The prices were rather good and it was a safe place to rest my knee and ride out the incoming storm.
Day Five and Six
Zero.
I just hung out at the tiny little cabin I was staying at, enjoying hanging out on the trail with nothing to do. It was oddly calming. Nothing eventful happened at all. The cabin didn't blow over from the wind (it almost felt like it would at one point!). I just enjoyed the stay.
Day Seven
About 14 miles. Around 3300ft gain total.
With the forecast saying the storm would be over, I packed up my gear and hit the trail again. Three other hikers had decided to also take the same 2 days off to ride out the storm: they had hiked the next section many times in storms and didn't feel like doing so again. Most of the other hikers had pulled ahead, choosing to continue on in the rain, but it was nice to meet back up with the few who made the same choice as me.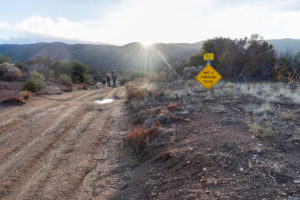 We hiked through Blair Valley and down Box Canyon before heading up Oriflamme Canyon toward Cuyamaca. It was a beautiful day to hike such a beautiful area of the trail. Strong clouds loomed over Cuyamaca all morning and only barely seemed to break at all as we approached them closer and closer.
I never fully realized I was using my old mask tactic that I learned much younger for so many other problems I encountered in my life. It was a tactic that worked really well, and it seems like I've been actively using it my entire memorable life, to me. Coming to this realization this year was difficult and distressing. I didn't know how to deal with it. So I questioned it. I delved in and began exploring. This thing I do has helped me through so much of life: what is it? Where have I been using it?
At camp up in the mountains that night, I stared up at the stars in wonder. Suddenly, the full glory of Orion popped out at me. I've always been able to point out the Orion Constellation quite easily, but for the first time, the entire figure popped out at me. The lion's hide in one arm and club in the other: I could see it all. It was amazing and beautiful, reminding me of the healing experience that witnessing the full totality of the solar eclipse in the Sawtooths of Idaho was.
The eclipse was life changing. It's impossible to describe to someone how a 4 day backpacking trip highlighted by a full solar eclipse while experiencing such existential questioning can change you. I had also had the pain of meeting lovely people and ripping myself away from them to continue my exploration of the country and myself. Including one friend who died shortly after meeting him this year. The experience blew my mind.
It really didn't take long for me to use the same old tactics of using this invincible mask that could be anyone or anything. I realized I was queer really early. But I lived in a small, rural town that was strongly conservative. My family has always been great, but we went to church frequently, and the heteronormative culture and outright homophobia was everywhere around me. With the people I love, it was mostly just ignorance. Others always seemed to breed it out of hate. And all of this together: I couldn't be queer. It was too dangerous. Somehow, it felt like constantly being back under the thumb of my abuser. And I knew what worked then. So, I went to work. Maybe a little bit of childish exploration with other children a few times that pretty much locked in my knowledge of being queer, but otherwise: I had to be straight. I had to be subtly homophobic. This was survival. And it had to be done.
Day Eight
About 17.5 miles. Around 1800ft gain, but 3500ft loss.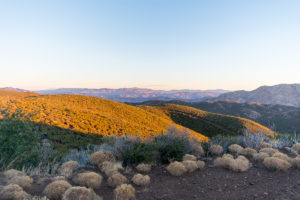 Waking up, we were covered in frost. The humidity had spread dew over everything and the cold mountain air frosted it over. It was cold. Everything was wet. I laughed and just enjoyed the hilarity of the situation. What else could one do? We dried our gear for a bit in the sun before packing up and leaving.
I've always kinda hated labels. Especially when it comes to my queerness. I've eventually settled on embracing "queer", just because it doesn't necessarily carry some specific meaning. It can be whatever the hell I am. And what I am is kinda confusing to heteronormative folks, and even some in the LGBTQ community. There's a distinction between romantic and sexual interest, and several other factors that come in to play, and for me, it's all just being comfortable and self-aware of whatever feelings I'm having in whatever way in the moment. I guess some people would give up and call me bi. I don't like it, because it doesn't fit, but if it makes life easy, go for it.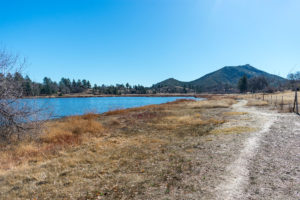 We walked through some mountain meadows along the CHRT before cutting across into Cuyamaca Rancho State Park. Here, we finally ran into stands of Jeffrey Pine, among other cool mountain habitat. A post along the trail had a small marker for the San Diego Trans County Trail, and we followed the trail from there around the lake before stopping into the Cuyamaca Store and Restaurant for some breakfast. I had a lovely burrito and some hard cider before we set off down the mountains via Engineer Road.
I began popping 400mg of Ibuprofen every 4-6 hours a little bit down the trail from here. My knee was enraged that I was still hiking on it for the rest of the hike. But with the ibuprofen, I was able to keep walking with a normal gait, without the pain becoming significantly worse at any point.
It took me a long time to ever feel comfortable taking off the heternormative straight mask and actually be queer around someone again. As time went on growing up, the mask worked again and again. I became more comfortable in the mask than I was just being a version of myself that is honest, genuine, and that I actually even like being. More than anything else, the church taught me time and time again that it wouldn't be safe. My parents innocently gave cue after cue that it would be a difficult thing; I know now that they would have always handled it amazing (just like I'm sure you are now, Dad). I became so personally invested in staying behind the mask, it took me a long time to realize I could peak out. That exposing myself would be okay.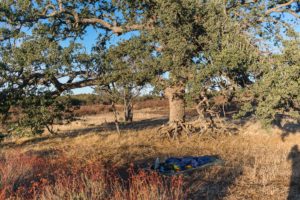 At the end of the night, we stopped at a clearing with a large oak tree in National Forest land. The others I was still with chose to camp out in a clearing in the brush, but I decided to setup camp right under the tree itself. The tree comforted me to sleep and gave me one of the most healing nights of sleep I've ever had.
It took me even longer to finally leave the church than it did for me to start showing my queerness to friends. I found a lovely group of friends who I was slowly able to start coming out to. It was a terrifying experience. But through it all, I ended up living in what we called  "the commune". It was an intentional community of Christians living together as roommates. We had bible studies and even had our own church in an Asian restaurant for a bit. Most people I met there were great and I hold nothing negative against them. But I ultimately left because of the constantly looming abuse to my queerness. I never told anyone before this: that that is the reason I left. To be honest, I was not a very good roommate, and this was in no small part due to the discomfort I had with being queer and living in this community. I joined with the hopes of breaking through that, but it never happened. Instead, the usual continued. Like an abused wife, I kept giving the church one more chance. One turned into I don't know how many. But that was it. I left "the commune" and left the church. Allowing someone to have that power over you and be so abusive is the last thing I could ever believe God would want in our lives. The church is abusive. And I'm done being under its thumb.
Day Nine
About 15.5 miles. Around 4000ft elevation gain.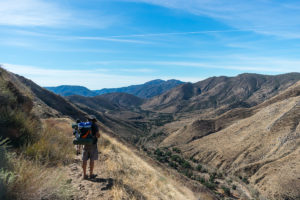 Waking up under the oak tree, I was dry and felt wonderfully rested. Unlike my fellow hikers that got covered in dew and didn't fare so wonderfully over the night. I thanked the oak tree for protecting me and we set out on the trail again. Following old forest roads, we crossed near the Three Sisters Falls Trailhead before skirting around it and dropping down near Cedar Creek Falls. We didn't stop at any of the falls, but we more than enjoyed the views along the way down to the San Diego River Valley anyhow.
I got PTSD when I was just barely a teenager. I realize now that I really tried to deal with that the same way as I was successfully dealing with everything then: put on the mask, hide deeper, and stay safe. The wall got built a little higher. A little thicker. I shut off friends for no reason: they were just too close, now. I needed more distance. I needed to be safer. And I dealt with the PTSD like that for a long time. Undiagnosed, I reached out a few times for help and didn't get it. I can't blame anyone: I was mortified to trust anyone enough to actually ask for help and they didn't know any better. But the PTSD shaped my identity, and I put this new identity into the mask I wore and tried to kill anything else. No wonder I always described feeling "dead inside". This well manicured mask was all I gave room to breathe any more.
From Cedar Creek, we climbed up and out and followed some old forest service routes until the trail essentially ended. We jumped off and started bushwhacking up and down large ravines through national forest lands before finally hooking up on a forest service road again that took us towards the backside of El Cajon mountain.
Day Ten
About 10 miles. Around 3300ft elevation gain.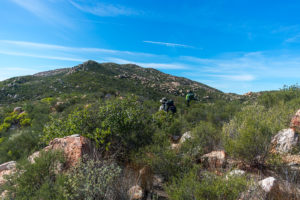 Waking up, we finished the last bit of road walking on the old forest service road before beginning the difficult bushwhack up the East side of El Cajon mountain. This is all Cleveland National Forest, but no defined trails have been created going up this side of the mountain. So, we did what we do and started our way, pushing through brush and chaparral as we made our way up the mountain.
I had started the morning right away listening to Pink Floyd's The Wall. In its entirety. I finished it before we hit the bushwhacking section. This album probably defines my musical taste more than any other album I've listened to, and I always find it to be an oddly comforting album when having an existential experience. It seemed appropriate to listen to it as I hiked along, thinking over all of these existential quandaries.
I always thought I was going to die before I graduated high school. It wasn't logical. Just this deep sense as if I knew something was going to happen. But nothing did happen. I graduated and walked away and was completely lost. This character mask I had created didn't make any sense, because I didn't know what to do with it. So, I found myself turning to drugs and alcohol out of some kind of hope of reinforcing the protection I took upon myself. And that worked for a long time. It changed the way I felt, just like any substance use is intended. I got by for a while.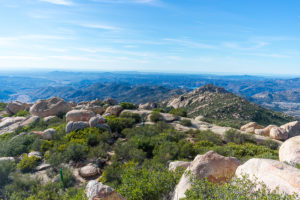 Eventually, we finally hit the peak of El Cajon. One of the other hikers was feeling sick all day so we had taken our time, and everyone seemed happy resting at the summit. The views are beautiful. I had done the day hike up here and was familiar, but the hike had given me entirely new eyes across the views to the East. I enjoyed it for a while before deciding to start heading my own slow pace down the mountain, alone.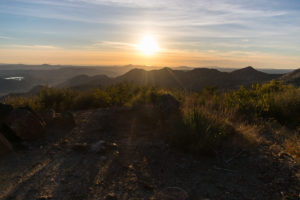 It was nice carrying a light pack at this point. I had eaten the vast majority of my food and by the time I was halfway down the mountain, I ran out of water. But the sun was showing off a gorgeous sunset, temperatures were dropping, and I was comfortable. The others caught up to me here, and we started making our way down the rest of the mountain.
Abusing substances to deal with life's problems always leads to the same place: some kind of proverbial "rock bottom". I had mine. I put my girlfriend at the time through hell trying to figure out what the hell happened, because I refused to talk about it. I still really don't like talking about it, and frankly, it is essentially irrelevant to most topics. What did come of it, though: I finally accepted my own need to seek therapy, and I got some help. I entered therapy. We focused on my PTSD, and now today, they say I don't have PTSD any more. (Which is the best feeling in the entire world, by the way.) And that really began my entire process. For the first time, I began to introduce myself to ME. At the end, I began seriously exploring sobriety and even went to school to be a substance abuse counselor for a bit, before deciding that lifestyle wasn't for me. I began coming out to more friends about my queerness and becoming a more complete version of myself.
I got "I am a Survivor / I came through this / I am Stronger and Better because of it" tattooed on my back. A strong sentiment projected to my blindest, weakest area. A new identity that is about growth and change and a willingness to become something entirely new while embracing my past–all of it.
I could finally be ME.
At the bottom of the trailhead, one other hiker and I Ubered into Lakeside for some extra supplies before Ubering back to the same trailhead and continuing on for a while into the night.
Day Eleven
About 25 miles. Around 4500ft of gain and 5400ft of loss in elevation.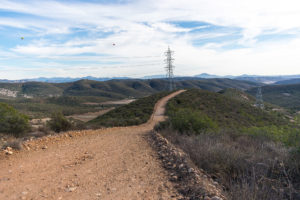 In the morning, we took a short route through Lakeside before cutting up into Sycamore Canyon Open Space Preserve. We continued through the preserve, accidentally taking a wrong turn or two, until we made our way into Poway and stopped at Costco for some food and resupply on water.
When I left the church, finally, I did end up finding a lovely group of people at an Open Mic night in Oceanside, CA–Glassless Minds. I've been writing poetry on and off as long as I can remember, and always enjoyed it. I enjoyed going to Glassless, listening to other poets and having a safe place to explore my own poetry and share it with similarly minded people. I think I needed that when I found it: I had nowhere to go. Nowhere that felt like home any more. Nowhere that felt safe to be ME. And this open mic landed in my lap. I miss going to such things quite frequently, because it will always be a part of me now.
We hiked long into the night, through Poway and beyond. Largely being up on high ridges, the night skyline of the city drowned out the stars but provided its own flickering entertainment. We pushed through creeks and neighborhoods, staying on foot trails nearly the entire time, deep into the night.
As I thought about all of these existential experiences through my life this year, it raised an important question: But who really am I? It was frankly distressing for a while. All of these different aspects of me that seem so me, but lingering over it all is this crazy persona I've been developing since I was a kid. When under a lot of stress, I'll catch myself still putting on that mask and being as if a totally different person.
Day Twelve
About 15 miles. Around 2000ft elevation loss.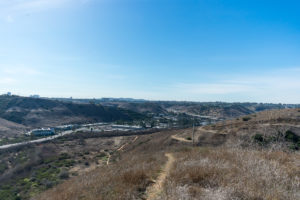 Waking up, we set out on the trail. We followed Los Penasquitos Canyon most of the way, with the intention of hooking up to the Los Penasquitos Marsh and on to Torrey Pines State Beach. It was to be a pretty easy day, and something of a victory lap to finish on. Unfortunately, painfully close to the end of the canyon, we ran into an SDG&E worker who told us we were not allowed to pass due to work on powerlines that could fall in the area. He sent us up a steep climb on the North side of the canyon, into a small community that we had to walk well around to get back to the intended trail. Extra, difficult miles.
A big thing I came to realize in all of my existential questioning is that who I am isn't really important. We can all be whoever we want to be. Being the person that could handle all of the pain and challenges in my life, who could be the person I needed to be in order to survive in the culture that surrounded me, carried me through the most difficult times of my life. I choose to integrate that persona into myself more completely now, and I recognize that whatever happens, who I am is a choice. One that we all make. I think I spent much of my life trying to let other people make that choice for me, and it seems like so many other people do, too. But there's no point in that to me any more.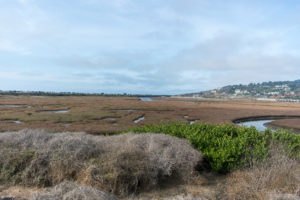 Alas, we got back on the trail and started walking through the muddy as hell Los Penasquitos Marsh. With the recent storm blowing through, we got our feet soaked and covered in mud walking through the bogs and trying to stay on the edge of the seemingly endless marsh. Until at last, we made it! Crossing the 101, we dropped into Torrey Pines State Beach and celebrated a victory none of us wanted to come so soon. We just hiked from the Salton Sea to the Pacific Ocean!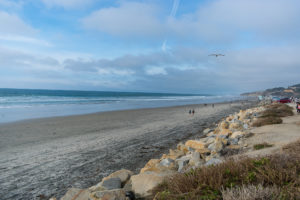 I feel the need to be honest: I'm honestly scared to hit Publish on this one. A lot of things in this post have never been said to people that I expect will read it. But I'm posting this one for me, and this post is honest. This post is me. I chose to be a hiker and even earned the trail name "Wet Beard" on this hike. And going forward, I get to choose whoever I want to be. My existential experience feels complete, but I choose to embrace endless change and the unexpected. Perhaps this life is only just beginning for me. That's exciting.
Turning 30 on January 18, the future after this is uncertain. I didn't plan anything after this hike. I just got a hotel room and am relaxing for a bit. Enjoying some nice showers and just hanging out. Getting some work done. Whatever being 30 means, it's a mystery to me until I experience it. And that's really exciting!
Picture Gallery