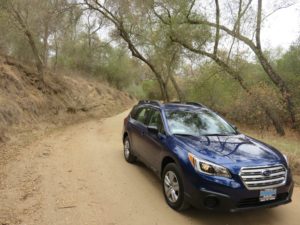 In late November, 2014, I traded in my old 2005 Chrysler Sebring Convertible (Katriel, RIP), for a new 2015 Subaru Outback. Deciding that I had wanted to live out of a car, I did large amounts of research and settled on the Outback being the perfect car for this next leg of my adventures.
Taking her on some short adventures, I found that her name was Tivona (pronounced like Tea-Voh-NAH ; emphasis on the last syllable). It is a Hebrew name meaning "Nature Lover". This is a name she has certainly lived up to as I have taken her through a great amount of nature, both on road and off.
I added two group 31 AGM batteries from West Marine wired in parallel to the trunk, giving me 210Ah, with a 300W array of solar panels from Renogy. I did the wiring and construction myself, and Tivona holds a nice toolbox of necessary items to do any repairs. With this setup and a cellular range extender from Wilson Electronics (now weBoost) for internet, she has all that she needs to power our off the grid lifestyle.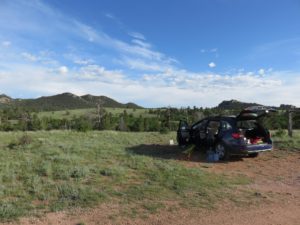 I carry a blow up mattress and an ENO hammock for sleeping. Tivona has more than enough space with the back seats down to lay out the mattress for a more than comfortable sleeping space, or I can sleep in the hammock, or even set up a tent I also carry.
For more on the setup inside, go to my Living Setup page, where you can get into detail of how Tivona works as a "home" of sorts.
Tivona is a wonderful car for this lifestyle of adventure!