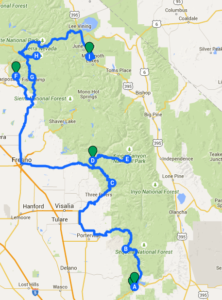 On Friday, I left the Keyesville SRMA area near Lake Isabella, and began my journey through the Southern Sierra Nevada. I had scoped out a pathway through the area, with three campsites, which I had hoped to take a good, long while to get through. Due to lack of cell reception, however, I ended up traveling them all, seeing all of the following: Sequoia National Forest, Giant Sequoia National Monument, Sequoia National Park, Kings Canyon National Park, Sierra National Forest, Yosemite National Park, and Inyo National Forest.
After getting work done for the day Friday afternoon, I headed up a scenic route, over Mountain Highway 99, through Sequoia National Forest. This ended right at the Trail of 100 Giants, which I decided to go ahead and hike. It was amazing to get my first taste of the giant trees in this location.
My plan then took me into Sequoia National Park, where I spent some time seeing some sites, before heading into the Cherry Gap Camping Area, nestled in Sequoia National Forest, right in the middle of Kings Canyon area. I stayed there that night, but due to poor cell service, I had to continue on.
Saturday, I woke up and went to visit Kings Canyon National Park. It was mind blowing! I took some time to go on a small hike in there and then continued on. After a stop in Fresno, I went up into Sierra National Forest, right on the western side of Yosemite National Park. I had scoped out Jerseydale Campground, and thought perhaps that would be a good spot to stay for a while. It turns out that cell reception was poor there as well, so I had to continue on to find a better spot.
Sunday, I woke up early and headed out toward Yosemite National Park. As I drove to Glacier Point and stopped, I imagined what John Muir must have felt the first time he stumbled upon Yosemite Valley. To see it at a time that it was untainted by the noise and crowds of people. When there wasn't railings and endless buildings. Just one man, conversing with Nature as he gazed upon one of the most beautiful places on Earth. I found myself wishing that I could experience that as he had, as the park was far too busy with people to get even a decent taste of it. Nonetheless, I was in awe of the land, and I embraced the beauty for what I could as I drove through.
Driving through Yosemite took most of the day as I stopped a few times, scrambled around on some rocks, and just enjoyed the scenery to the best that I was able. Finally getting spit out on the Eastern side of the park, into Inyo National Forest, I drove by Mono Lake and headed to Lower Deadman Creek Campground in Inyo National Forest.
Finally, I had found a spot with good reception! After a long adventure in the Southern Sierra Nevada mountains, I have a spot to call home for a week or two. It's a beautiful little campground. The internet gets a little slow sometimes, but it works well for my needs for the week.